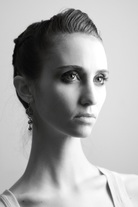 Christine McMillan
Christine McMillan currently dances for the Metropolitan Opera. Performing in over 45 productions, she has had the opportunity to work with numerous choreographers and directors including Doug Varone, Mark Morris, Alexei Ratmansky, Christopher Wheeldon, Benjamin Millipied, Graciella Daniele, Mary Zimmerman, and Julie Taymor. She has appeared in live international HD broadcasts and on PBS with the Met. Christine is a Bessie award-winning performer cited for her versatility. Her choreography has been presented at the Center for Performance Research in Brooklyn, Dancemakers (MKE), ACDA, and at the International Conference on Teaching Somatics-Based Dance. Christine previously danced with Ben Munisteri, Trebien Pollard, Poppo & the GoGo Boys, Rebecca Kelly Ballet, and Richmond Ballet and is a 500 hr. certified yoga teacher. She began dancing with Cherylyn in 2000 and recently received an MFA in Dance at the University of Wisconsin-Milwaukee.
Daniel Mantei
Daniel Mantei was born in Evansville, Indiana. He began his ballet training with Ceyhun Ozsoy in Duncanville, Texas and graduated from Booker T. Washington High School for the Performing and Visual Arts in Dallas, where he studied with Kim Abel, and spent summers training at Houston Ballet, The Kirov Academy and Boston Ballet. In 2001 he was named a Presidential Scholar in the Arts and invited to dance at the Kennedy Center. Mantei attended The Royal Ballet School during 2001, performing with both The Royal and Birmingham Royal Ballets. Mantei joined American Ballet Theatre Studio Company in 2002 and danced in American Ballet Theatre's corps de ballet from 2003 to 2017. His roles with ABT included a dancing gentleman in Manon, Paris in Romeo and Juliet, the Russian Dance in The Nutcracker, leading male roles in Continuo and Amazed in Burning Dreams and roles in Black Tuesday, Duets, Jardin aux Lilas and Thirteen Diversions. While at ABT, Mantei's dance aesthetic became influenced by his mentor Maggie Black. Mantei choreographed Armaments, Tolling Bells, and Stare Decisis for American Ballet Theatre. He has also created works for Columbia Ballet Collaborative, New York Theatre Ballet and The Seattle Symphony.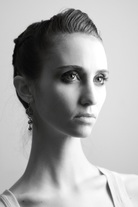 Giovanna Gamna
Giovanna Gamna is originally from Italy. She studied dance in Florence at Centro Studi Danza e Movimento. She holds a BFA in dance and performance from SUNY Purchase College. In New York she worked for Kazuzo Hirabayiashi Dance Theater, Luca Veggetti's "Xenakis and Japan" at Judson church, Yung-Li Dance and performed in Armitage Gone!'s variety show "Werk". Through Jen Harmon Projects she danced for the NYC productions of "Odissey Works, Theater for One" and for the 2014 edition of "Future of Story Telling" for Fake Love. She currently dances for Cherylyn Lavagnino Dance, Jen Harmon Projects and Gabrielle Lamb. She is also a Certified Balanced Body Pilates Instructor.
Sabrina Karlin
Sabrina Karlin was born and raised in the San Francisco Bay Area and trained at the Bay Area Dance School under the direction of Leyla Boissonnade. She has received additional training from American Ballet Theatre, Ballet Austin, Central Pennsylvania Youth Ballet, and the San Francisco Conservatory of Dance. She is fortunate to have also studied abroad with Israel's Kibbutz Contemporary Dance Company. In May of 2018, Sabrina graduated summa cum laude with a BFA in Dance and BA in Journalism from NYU Tisch School of the Arts, where she had the opportunity to perform works by Seán Curran, Giada Ferrone, Pamela Pietro and MADBOOTS DANCE. Most recently, she was seen performing as a featured dancer in Oklahoma! on the historic outdoor stage at Robert Redford's Sundance Resort. Sabrina began dancing with CLD in 2018 and is thrilled to be performing with the Schubert Project!
Wynne Huo
Wynne Huo, originally from Atlanta, Georgia, began dancing at the age of 10. She was recognized for academic and performing arts excellence when she qualified for the Governor's Honors Program of Georgia. Huo has been fortunate enough to perform at events such as Who's Who Business Magazine Award Ceremony in Atlanta, and Lincoln Center's White Light Festival as part of Crystal Pite's Polaris. She attended NYU under a Tisch School of the Arts scholarship where she had the privilege to perform works directed by Giada Ferrone, Jolinda Menendez, Cherylyn Lavagnino, and Ori Flomin.